Mandy Merzaban
(b. 1987 Canada) I am an artist, curator and writer. My curatorial and academic background is in the study of 20th century art of the S.W.A.N.A region and the politics of representation within Euro-American centric artworlds. Through decolonial feminist critique, I consider the subltler power dynamics that control the representation and interpretation of regional and diasporic artists within dominant art institutions in the Global North since the early 2000s.

My current research art practice carries these insights of the power dynamics involved in the codification of art, to consider histories of colonialism that underlie the research and categorisation of the natural world. In particular, the collection, naming and cultivation of botanical specimens such as species of 'poppies'.

Previously I served as the founding curator of Barjeel Art Foundation (2009-2018), and have been involved in the organisation of over 20 exhibitions internationally including at Singapore Art Museum, Tehran Museum of Contemporary Art,

Center for Curatorial Studies, Bard College

,

Yale University Art Gallery

,

Sharjah Art Museum

, Maraya Art Centre and

Google Arts and Culture.



I am a graduate of Massachussetts Institute of Technology's (MIT) AKPIA Program in the History Theory and Criticism of Art and Architecture department.














Research in progress (2020-)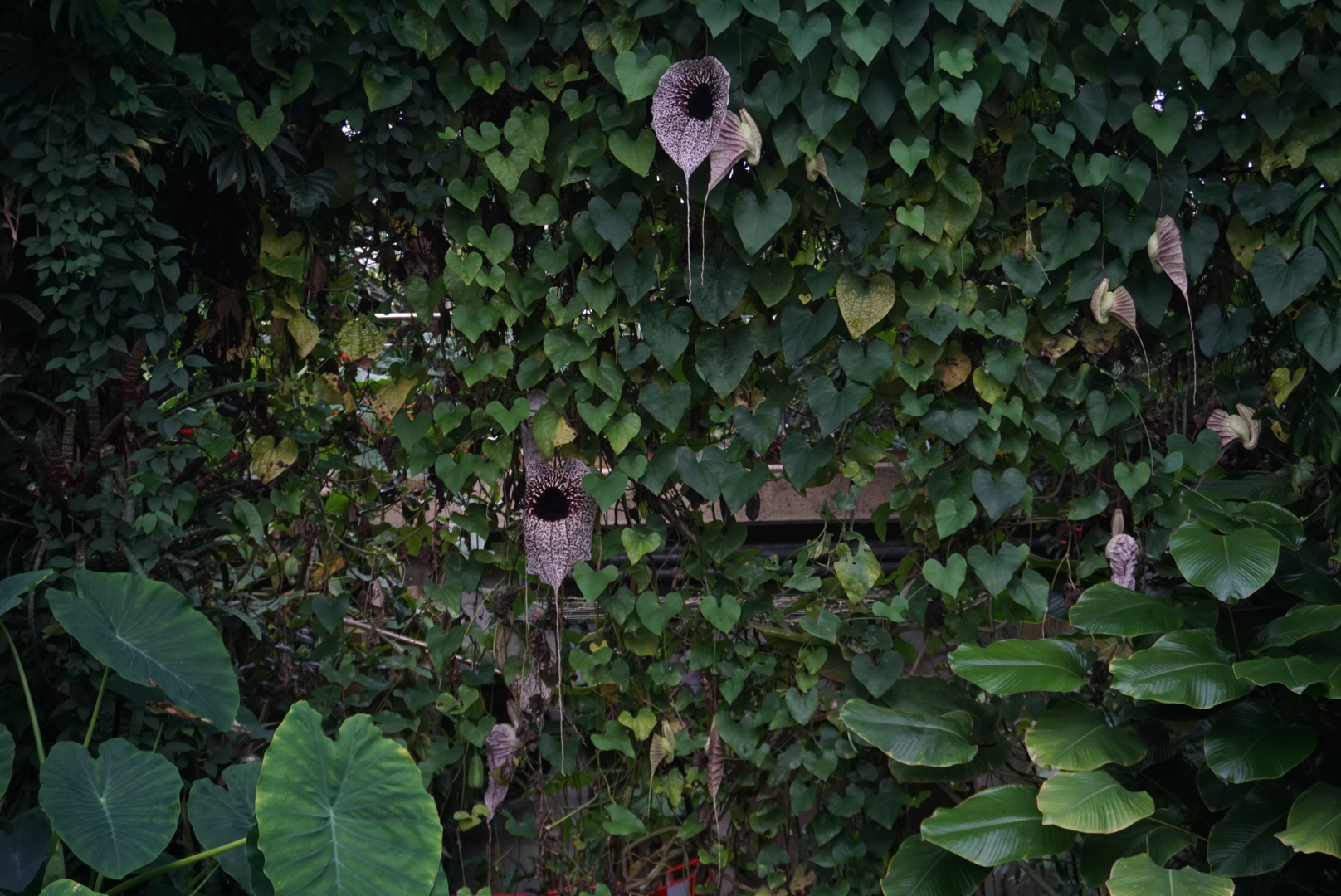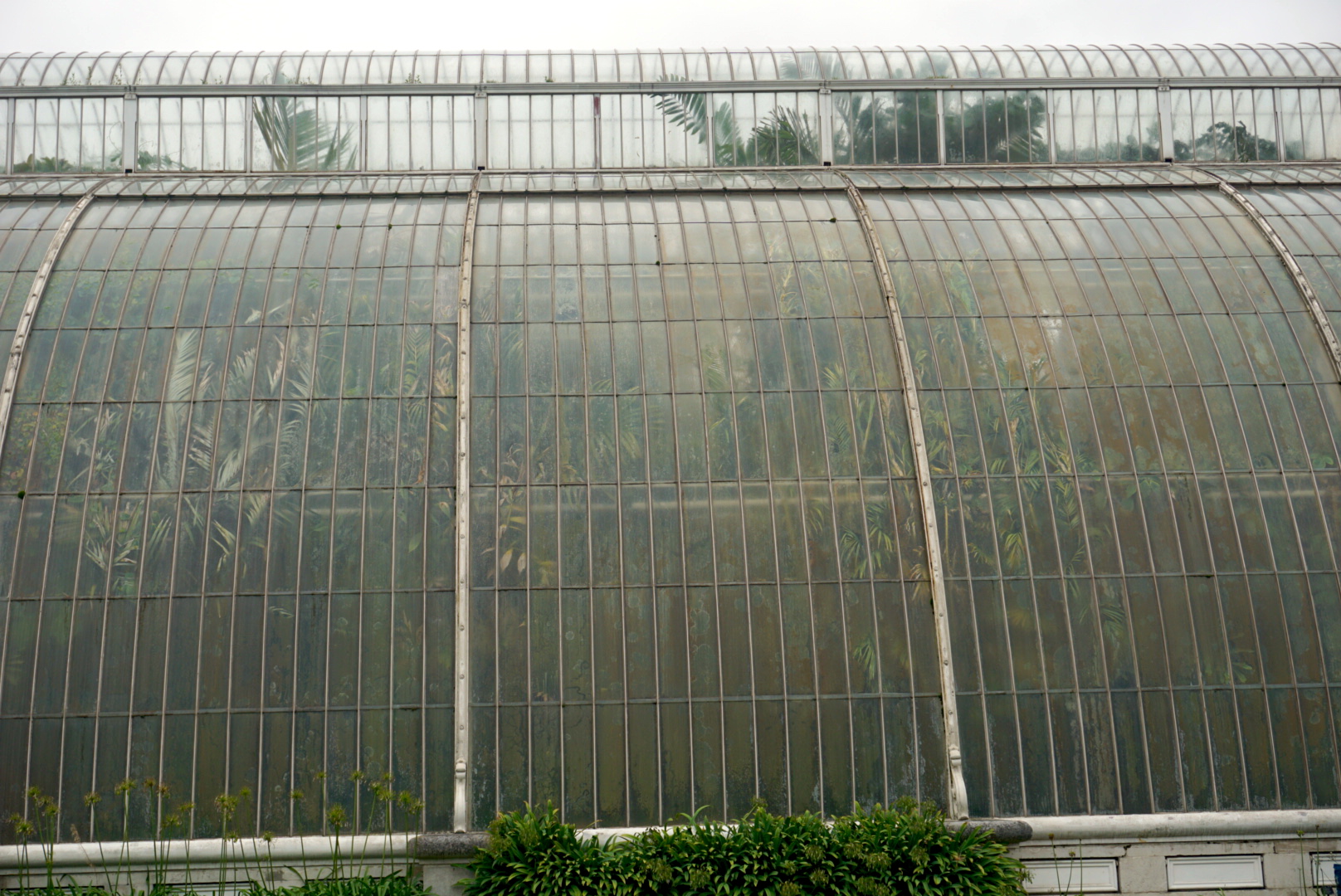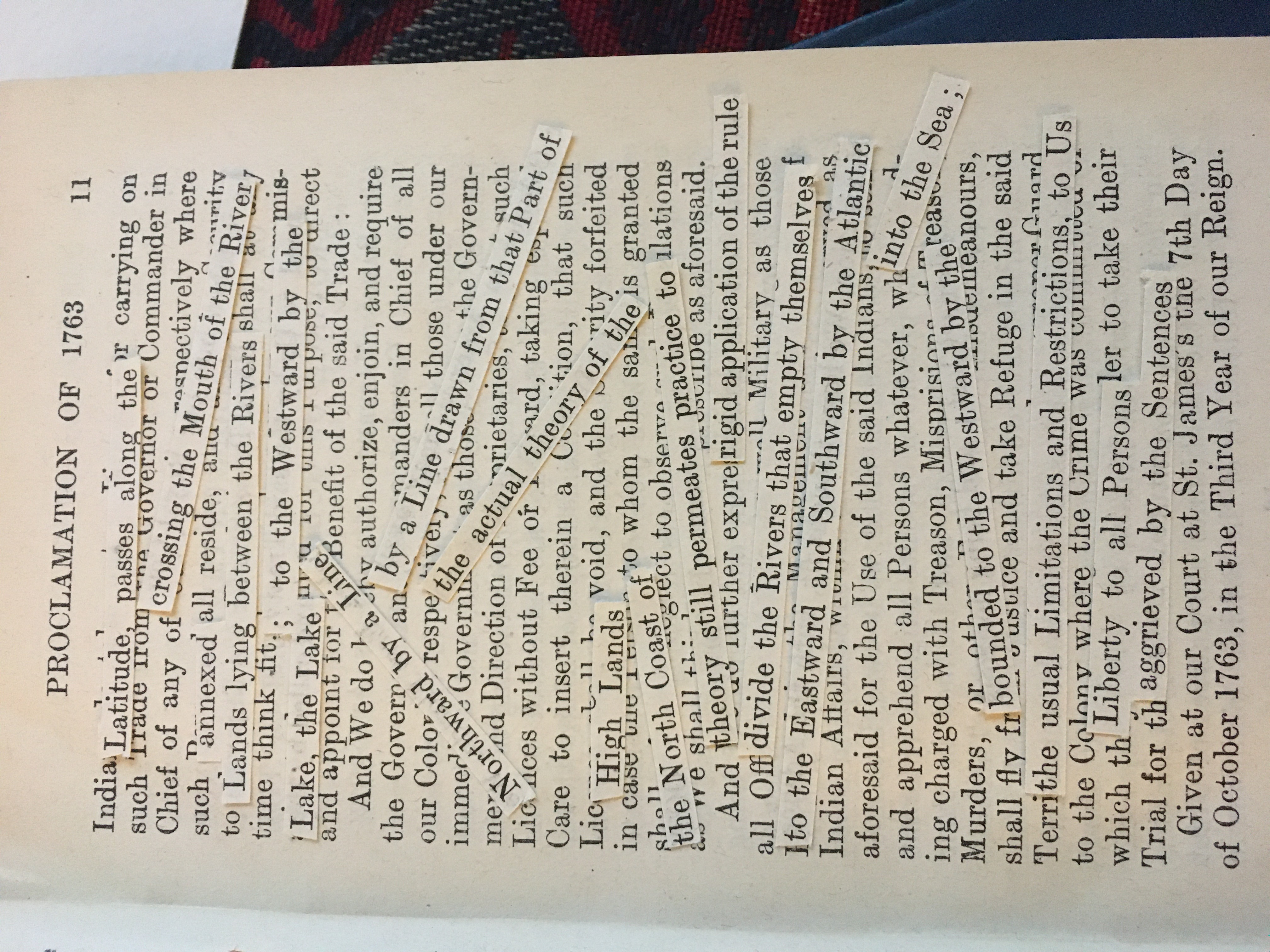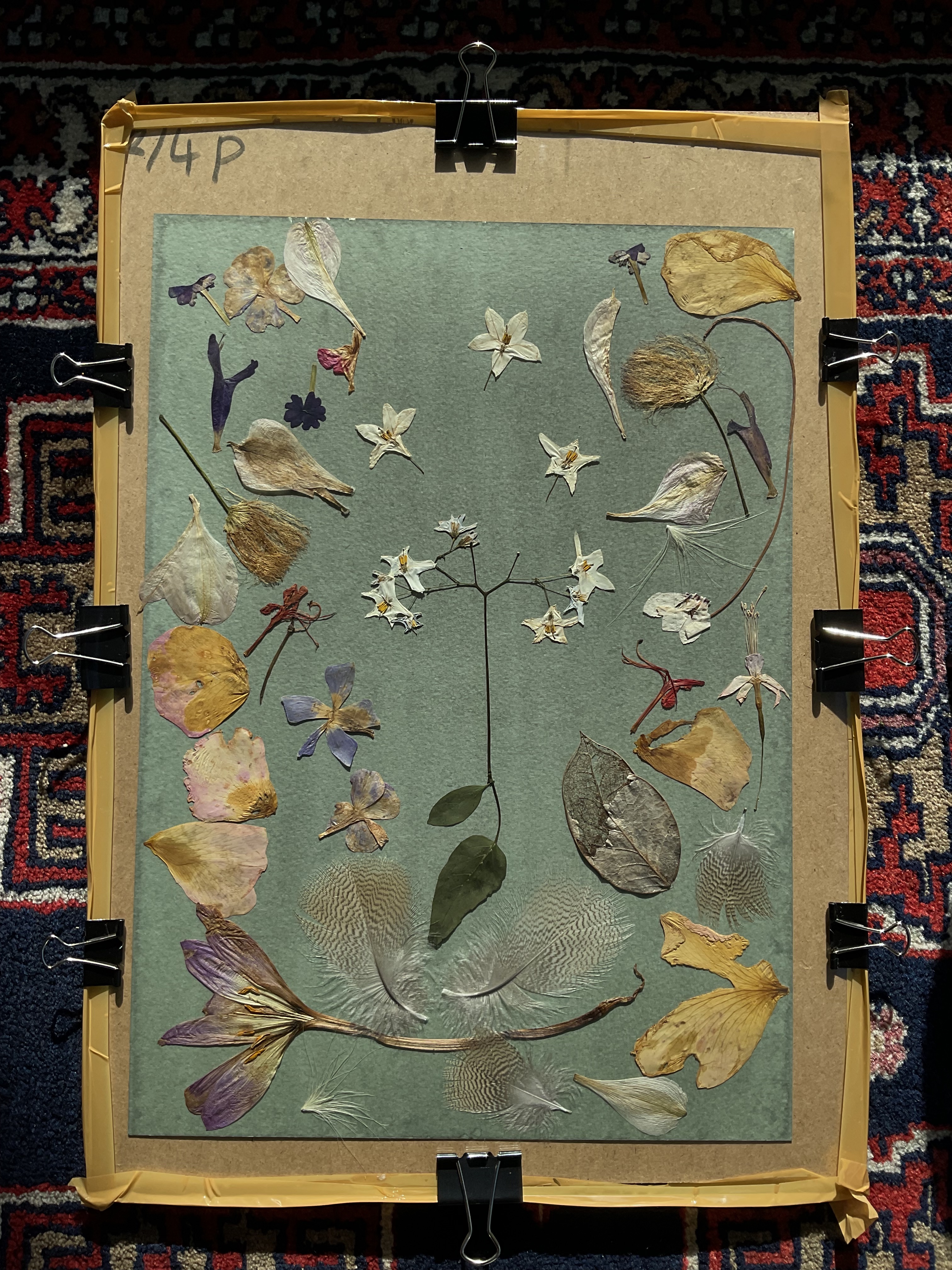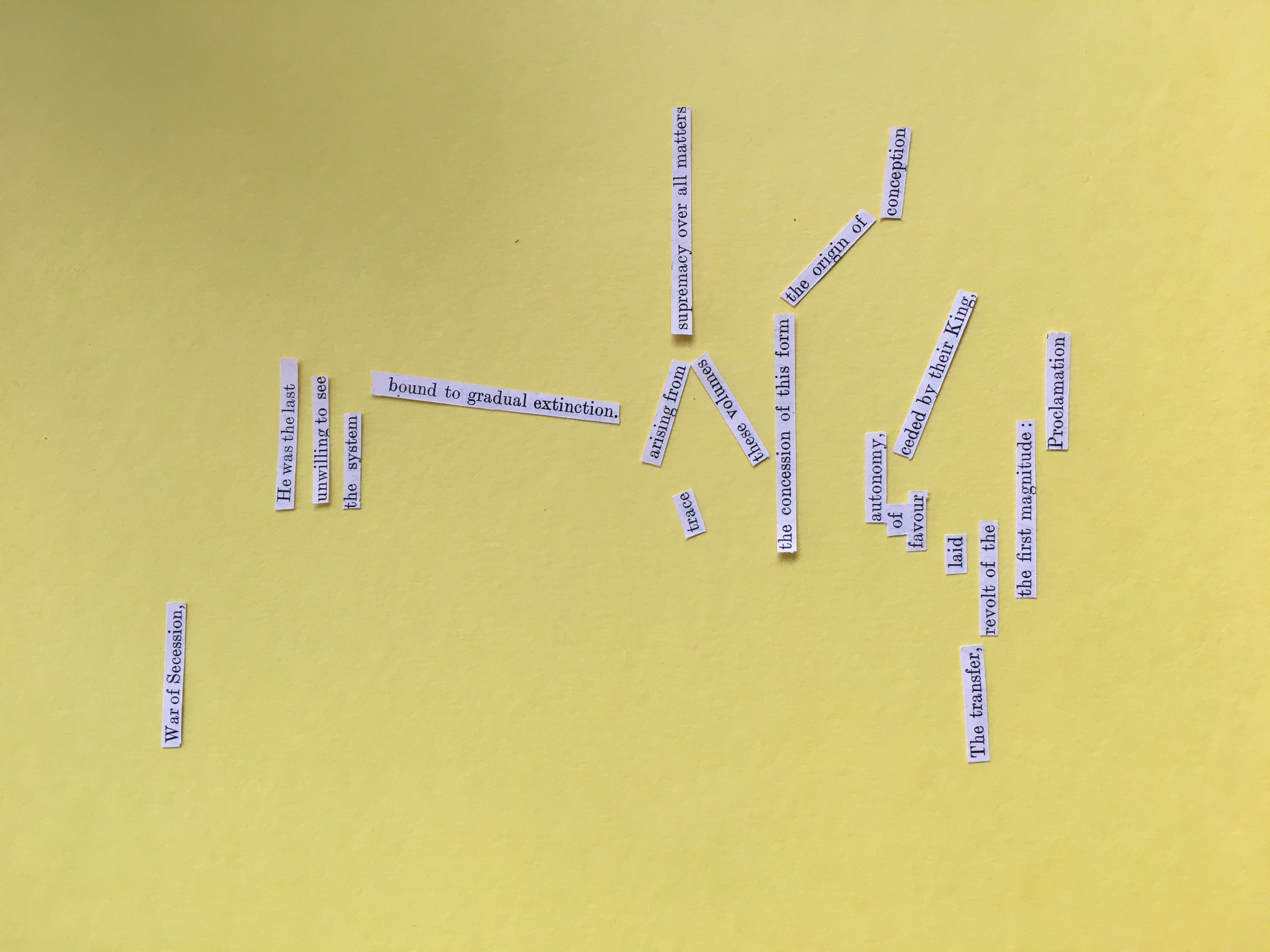 During the pandemic, the insularity of my dorm room at MIT made me even more alert to the growth of flora outside my window. The disconnect between reading academic scholarship and being outside became more acutely palpable as I began to sparingly collect specimens on my daily walks. This was initially a way to cope and disassociate with the intensity of the times. The natural world seemed to present a potentially neutral escapism, however superficial and fraught this assumuption may be. It is this very assumption of neutrality that is laden with colonial undertones and histories of exploitation.

I began pressing found and fallen flora for the next year and a half, visiting and researching manicured gardens in tandem with my more formal academic research. I have been collecting specimens of native and non-native flora in the form of an uncategorized, mobile herbarium of dried and pressed specimens from my various travels and living situations.

Samples of dried flora in turn have become characters and stencils for scenographies I create through cyanotype, a technique first used extensively by botanist Anna Atkins (1799–1871), at times considered the first female photographer. This technique is also widely practiced today in various commercial craft outlets as an easy alternative photographic process.

What emerges from these scenographies is a recurring cast of floral characters performing unconscious dream-like stories about love, aimlessness, and entropy.

In tandem with this I have been dissecting an early twentieth century book of British Colonial Policy to create de-colonial feminist poetry by cutting out rearranging its words deconstruct the generational trauma created out of its words and acts. This includes erasure poetry and poetry written with technical constraints.
︎ Law of the Sea, 2019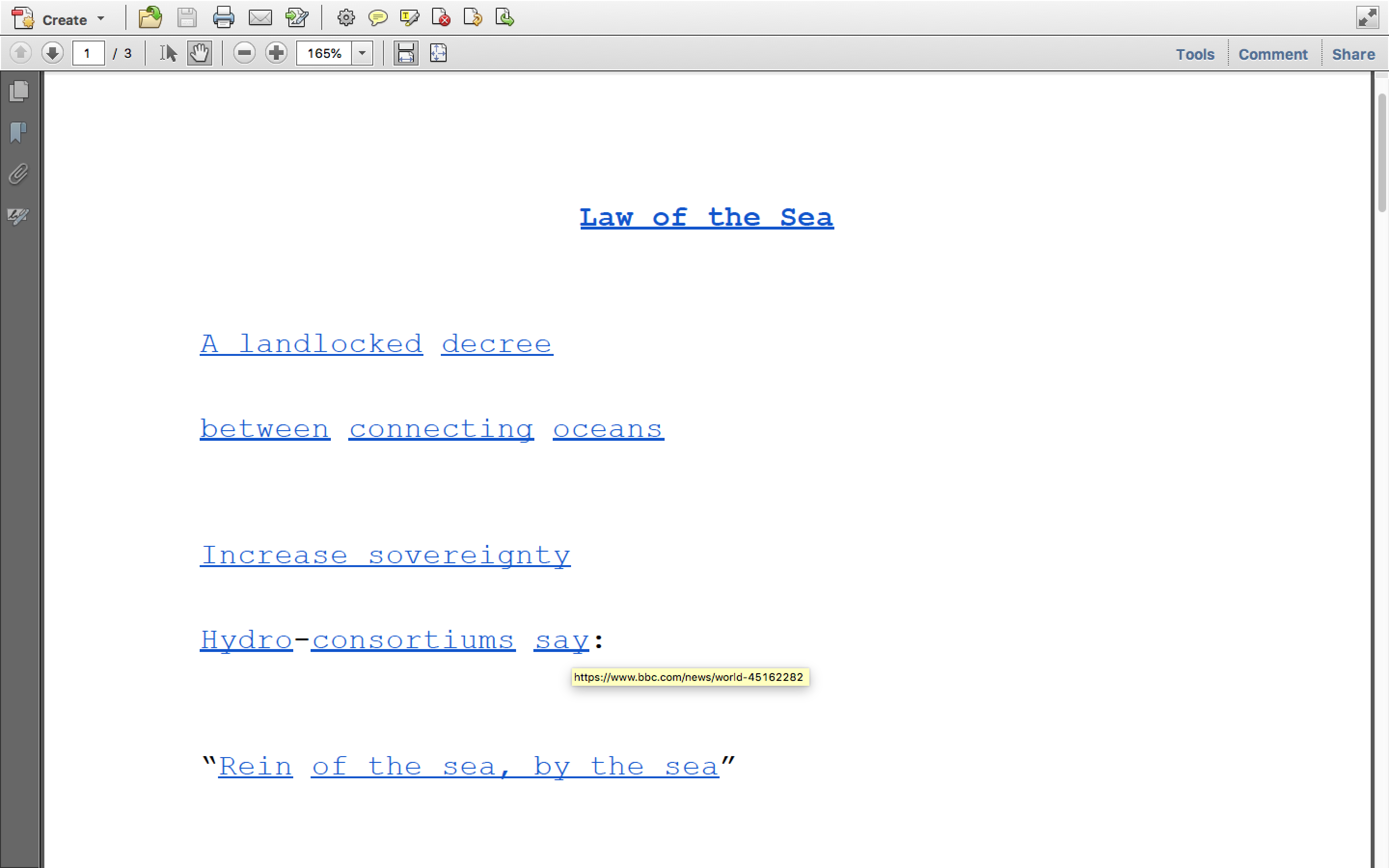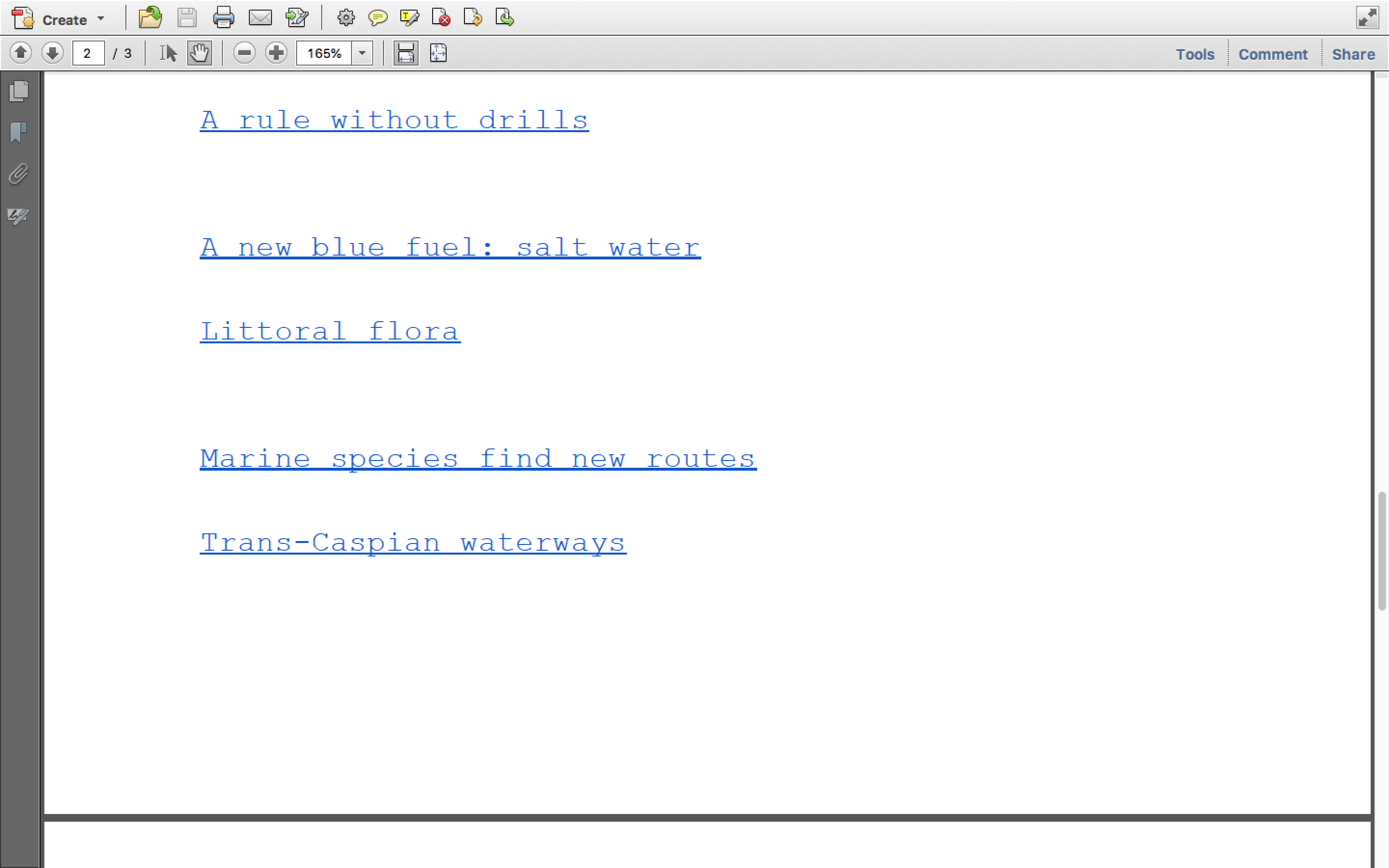 Law of the Sea, 2019
Hyperlinked PDF
Commissioned by Yarat Contemporary Art Space, Baku, Azerbaijan.
Comprised of a string of seven hyperlinked Japanese tanka poems, the text of Law of the Sea draws directly (and only) on vocabulary used in international news articles covering the geo-politics of the Caspian sea, namely the ongoing dispute and treaties forged between its five littoral states Iran, Azerbaijan, Russia, Kazakhstan and Turkmenistan, over its subsoil resources, military borders and the potential prospect of pipelines. Its title invokes the United Nations Convention on the Law of the Sea and its comprehensive rights and regulations of nations can interact with large bodies of water. The narrative reads, in the cadence of journalistic rhetoric, of an aquatic revolution that involves a seismic shift in the balance of power between land and sea, an inversion of territorial invasion, mediated through poetry associated with centuries old, furtive exchanges between lovers.
Produced during an artist residency in Baku, Azerbaijan
︎Littoral Intimacies I, 2019
Littoral Intimacies I, 2019.
Video projection 25:11, no sound (stills shown above)
Commissioned by Yarat Contemporary Art Space, Baku, Azerbaijan.


A series of split screen video clips play out as encounters between parallel worlds. The paired scenes of natural and urban spaces appear as brief, quiet vignettes that intimate subtle tensions, inversions, reversals which arise from their spatial associations. Among these dual scenes include fog lifting from a low peak of the Greater Caucasus mountains as beach waves of the Caspian sea endlessly retreat in a reverse primordial movement. In other scenes luminous, insoluble, oil bubbles rise spontaneously from calm waters; clouds occlude the sun in a re-formulation of the four elements (water/air | oil/sun); a waning river changes direction against the movement of a 1930 Bibi Heybat oil donkey; and an inverted suspended river drains from a regrowing greenhouse, while another scene shows passersby taking selfies along the Caspian, hovering above the Soviet oil rigs of Shikov beach.

︎An Unknown Lover's Discourse, 2013-
An Unknown Lover's Discourse is a research art project first culminated as a Masters dissertation in Cultural Translation in 2015. The title is a marriage of two core texts central to the project, A Lover's Discourse (1978) by French philosopher Roland Barthes and the 1922 novella Letter from an Unknown Woman by Austrian author Stefan Zweig about an unrequited love story set in turn of the century Vienna. Beginning with a recollection of an encounter in 2011 with a 1962 Egyptian film on Dubai satellite television, the project unfolded a couple of years later during my Masters programme through a series of experiments with receptive bilingual translation and my vague memory of this viewing. The film, Resala Men Emraa Majhoua (Letter from an Unknown Woman), is an adaptation Zweig's novella and is a musical starring Lebanese singer and oud player Farid Al Atrache and Loubna Abdel Aziz. Set in 1950s Cairo, this film is one of a few adaptations of Zweig's story at different points in time in different languages that include a Hollywood film in 1948, a French film in 2001 and a Chinese film in 2004. The initial research centred on my own encounters with these stories, ways of perceiving and interpreting these iterations across different electronic platforms, and languages through the philosphical lens of Roland Barthes' A Lover's Discourse and ethnomusicologist Ali Jihad Racy's writing on the experience of tarab, or "enchantment." A term that describes improvisation in vocal and instrumental approaches in music that is particularly influential in the musical histories of the Arab region and beyond.

/ The story

Bracketed by short, italicised, omniscient prose, the central body of Zweig's story comprises an unsigned letter by a woman to her lifelong unrequited lover, R., after her death. Written in a voice meant to echo a frantic, disquieted woman in love, the text lays to bare a depiction of female subjectivity. The unknown woman is effaced by her unbridled, masochistically silent fascination with the spirited life of a man of means, influence, genius and desire. Acting as a kind of externalised form of male introspection, the woman's letter offers a vantage point for the man to see himself. Also, written by a male author, the story acts as a simulacrum of the female subject. This patriarchal redundancy places the man, both the author and beloved, as the creator and primary subject of a woman's voice and consciousness. The woman is perpetually unknown, interchangeable with other lovers and only exists in the economy of men's words.

︎︎Art Review: Sullivan, Isaac. "Lives of Text," Canvas Nov/Dec, 2018
>> Waveform, 2018
An Unknown Lover's Discourse: Waveform I, 2018.
Video projection 40:47 min.
Commissioned by Alserkal Avenue Residency, UAE
Scenes from the English and Arabic iterations of the Letter from an Unknown Woman films play behind a window that converts the image into a waveform. Acheived in the video editing software Final Cut, the video is a screen recording of this "waveform" vector in the application measuring the luminosity of the moving image in real time and its graphical representation. The movements on the waveform graph capture the slight, gestural movements of the characters with minute accuracy. The result is a viewing of the films through their luminosity and given the intensity of the process, the waveform window is slightly delayed creating a spectral imprint of what is happening slightly quicker, behind it.

---
>> Drained words, Floating Ink, 2018

Floating ink, 2018,
Water monoprint, suminagashi ink on paper
Commissioned by Alserkal Avenue Residency, UAE
Stefan Zweig's Letter from an Unknown Woman, drained, 2018.
Debossed prints on paper
Commissioned by Alserkal Avenue Residency, UAE
In an attempt to vent my own frustration with
Zweig's androcentric text that imitates a nameless woman's frantic voice and subjectivity, these two works on paper operate in tandem as a quietly violent gesture. In Stefan Zweig's Letter from an Unknown Woman, drained, the impressions of the words from pages of the translated novella are emptied of their ink to remain as craters with a permanent imprint. While in Floating Ink, the extracted ink is symbolically released into a body of water to become a sumingashi monoprint, freed of a lingusitic form of language to express a form more liminal, spontaneous and ephemeral that cannot be repeated verbatim.